There was no one better to show off the stunning results of using the products than Katie Holmes herself as she shot an advert for her company on Monday.
The 36-year-old actress put her luscious brunette tresses on full display as she got in front of the camera to discuss the benefits of the luxury haircare brand.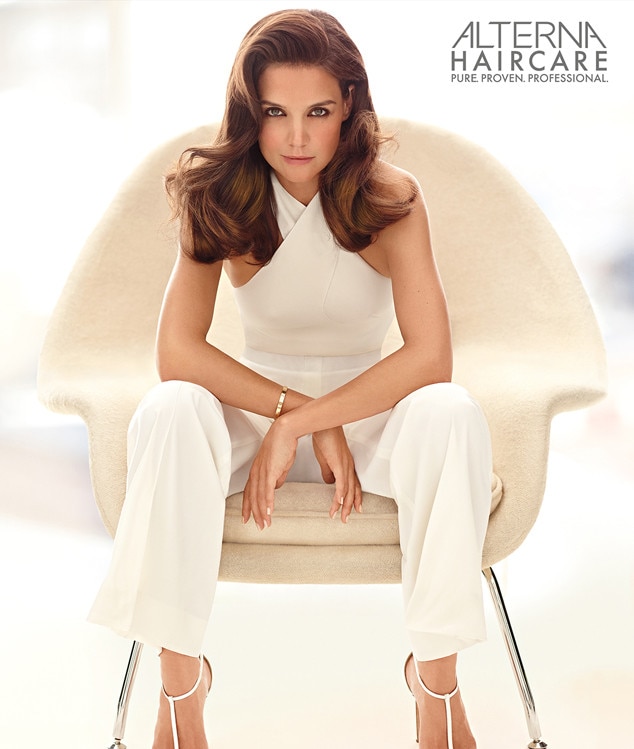 Working hard: Katie Holmes was on set to shoot an advertising campaign for her company Alterna Haircare in Los Angeles on Monday
It looked as if the former Dawson's Creek star did not have a strand out of place as a hair stylist did a few touch-ups using the product in between takes.
Not only did Katie's locks look immaculate, but her make-up was done perfectly as she opted for a natural look which complimented her cheek bones while adding a pop of colour in the form of pink lipstick.
The actress went casual chic while filming as she donned two different coloured sweaters, one green and the other grey, along with navy blue trousers and socks with a snowflake pattern on them.
Her own best advert: The 36-year-old star's long brunette tresses looked perfect for the filming session
Neutral: The former Dawson's Creek star went casual in a grey sweater as she was primped
At one point during the shoot Katie posed alongside the various Alterna Haircare products in their purple bottles as well as styling tools including a blow dryer, curling iron and a few brushes.
She was announced as the spokesperson and co-owner of the company in January 2013.
Katie said that one of the reasons she was drawn to Alterna Haircare was the quality of the product as she said in a press release: 'I love that Alterna uses natural and organic ingredients and stays away from harsh chemicals like sulfates and parabens.
'It's good for my hair and good for the earth, so I feel good using it.'
Brunette beauty: The actress had natural, complimentary make-up on her face completed by a swipe of pink lip
Casual customer: She later changed into a green sweater with navy trousers and blue socks with snowflakes emblazoned on them
The ex wife of Tom Cruise also said that she enjoyed the products from her first use: 'When I first used Alterna, I knew there was something special about their products because of how much healthier, shinier and smoother my hair looked and felt after just one use.'
She is not only busy with her haircare product line, but she has recently been seen on the Los Angeles set of Ray Donovan alongside main star of the show – Liev Schreiber.
According to Variety, Holmes plays a wealthy businesswoman called Paige, who's the daughter of a billionaire producer called Andrew Finney (Ian McShane).
The 12-episode third season of Ray Donovan premieres this summer on Showtime.
Promotion: Katie was announced as co-owner and spokesperson in January 2013